Chipworks is performing a
more in-depth examination
of the iPhone 5s than the one
performed by iFixit
last night.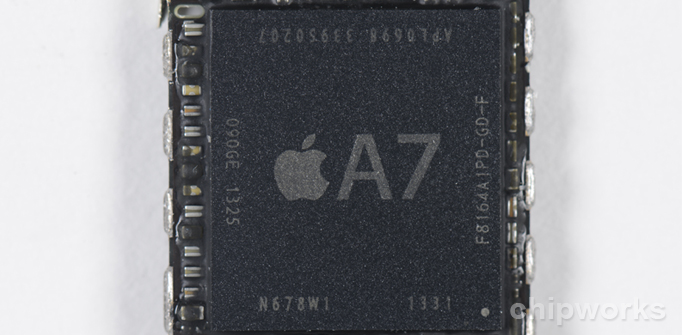 Among its discoveries, Chipworks found that the A7 chip is manufactured by Samsung, a big win for that firm after
rumors surfaced earlier this year
that Taiwan Semiconductor Company (TSMC) might
win the contract
for the new chip. Code discovered in iOS 7 back in July did suggest that Samsung would
remain the primary manufacturer
for the A7.
Chipworks also found what it believes to be the M7 motion coprocessor, which iFixit
dubbed the "magical" chip
because it couldn't be found on the logic board during the original teardown. Instead, the M7 is a discrete processor from NXP: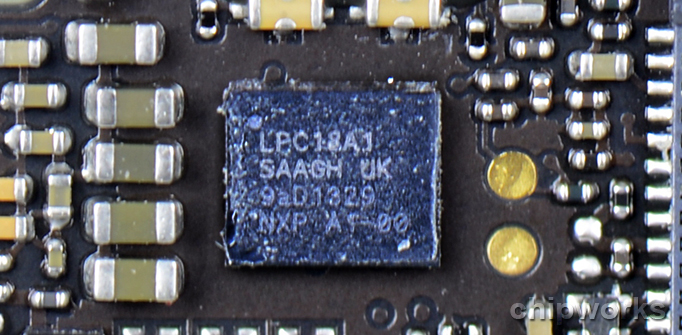 Luckily, we've been able to locate the M7 in the form the NXP LPC18A1. The LPC1800 series are high-performing Cortx-M3 based microcontrollers. This represents a big win for NXP. We had anticipated the M7 to be an NXP device based on input from industry analysts and our partners and we are happy to see this to be the case.

The M7 is dedicated to processing and translating the inputs provided to it by the discrete sensors; the gyroscope, accelerometer and electro magnetic compass mounted throughout the main printed circuit board. Traditional Apple techniques lead us to believe that the these discrete sensors will most likely be STMicroelectronics for the accelerometer and the gyroscope while the electro magnetic compass would again be an Asahi Kasei Microdevices (AKM). We have since confirmed the compass to be AKM's AK8963.
Chipworks will be
continuing its teardown
throughout the day.
Recent Mac and iOS Blog Stories
•
'Google Translate' for iOS Updated with Handwriting Integration, Support for 7 New Languages
•
Official PlayStation 4 App for iOS to Launch Alongside Console in November
•
'Apple Configurator' Updated with iOS 7 Feature Support
•
SimCity Expansion 'Cities of Tomorrow' Coming November 12
•
Google Releases New Universal 'Quickoffice' iOS App for Free
•
Google Drops NFC Requirement for Google Wallet, iOS App Now Available
•
Disney Launches Sandbox Creation Game 'Disney Infinity: Toy Box" for iPad
•
Refurbished Mid-2013 11-Inch MacBook Airs Now Available in Apple Online Store