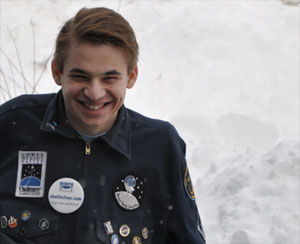 Space educator Sawyer "@thenasaman" Rosenstein, 19, might also be described as a space fan. His enthusiasm for space flight was captured in this Boing Boing feature, and shines weekly in his "Talking Space" podcast. He traveled to Florida this weekend for the opening of the new permanent exhibit of Shuttle Atlantis at KSC, and shares these photos with us back home. All images in this post are Sawyers' so ask before you re-use them. —Xeni Jardin.
---
The Atlantis exhibit: 90,000 square feet, $100 million, and one precious piece of American space history. Give that to any organization and they'll come up with something pretty cool. Give it to Delaware North, the company that runs the Kennedy Space Center Visitor's Complex, and you get one of the most impressive displays I've ever seen.
Atlantis is displayed with quotes from the people who worked on her and over 60 interactive exhibits. The orbiter steals the show. These pictures do not do the experience justice, but I hope it'll give you, Boing Boing readers, a glimpse into what was done at Kennedy. And I hope it inspires you to go and see it yourself.
Photos: Sawyer Rostenstein.