iOS 6.1 Bug Enables Bypassing Passcode Lock to Access Phone and Contacts
: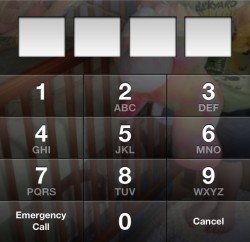 Yesterday,
Jailbreak Nation highlighted
a bug with iOS 6.1 that allows users to bypass a passcode lock on an iPhone to access the phone function and contacts on the device. While the bug allows only limited access to the device and can require several attempts to achieve the correct timing to exploit, it is gaining significant attention today.
1. Lock device
2. Slide to unlock
3. Tap emergency call
4. Hold sleep button until the power down prompt shows. Click cancel, you will notice the status bar turn blue. Type in 911 or your emergency number and click call then cancel it asap so the call dosen't go through.
5. Lock your device with the sleep button then turn it on using the home button.
6. Slide to unlock then hold the sleep button and in 3 seconds tap emergency call. This will spazz out the phone and cause it to open.

[Make sure to continuously hold the sleep button until you are done looking in the phone]
The issue does appear to have been present in earlier versions of iOS as well, as
Gizmodo points
to a
YouTube video
posted in late January claiming that the method also works on iOS 6.0.1 and 6.0.2.
Similar bugs
have appeared in previous versions of iOS, and Apple has generally moved fairly quickly to incorporate fixes into subsequent software updates once it becomes aware of the issues.