The repair experts at iFixit have completed their
teardown of the new MacBook Air
, providing a closer look inside the notebook.
iFixit started by confirming the keyboard on the new
MacBook Air
has the same silicone membrane under the keycaps as the latest
MacBook Pro
, as expected since they both use Apple's third-generation butterfly keyboard.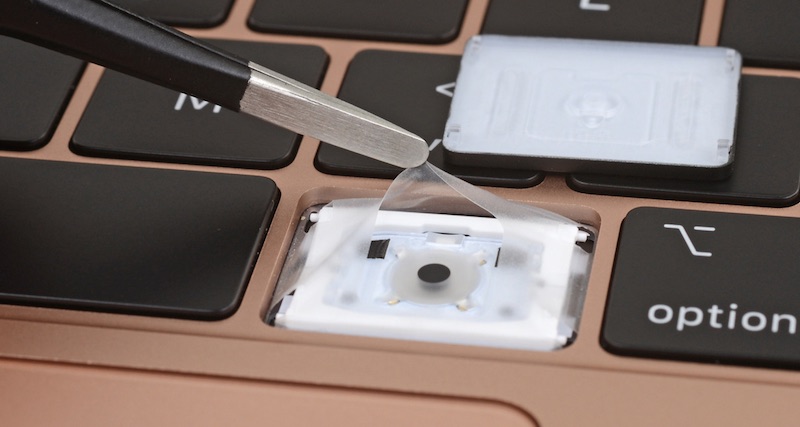 Next, they flipped the notebook onto its bottom side and encountered Apple's usual pentalobe screws that require a special screwdriver to unfasten. On the inside, there is a compact array of components, including a small logic board, a fan, a pair of large speakers, and a "radiator-esque heat sink."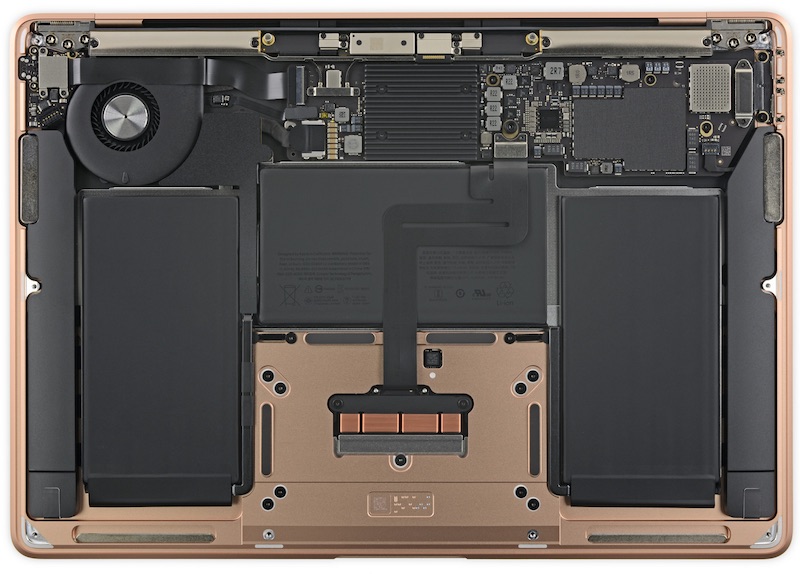 iFixit proceeded to remove the logic board, providing a glimpse at the Apple T2 security chip, along with a Thunderbolt 3 controller from Intel, 128GB of flash storage from SanDisk, and 8GB of LPDDR3 RAM from SK Hynix.

Diving deeper, iFixit discovered that the two Thunderbolt 3 ports in the new MacBook Air are modular, and applauded Apple for this repair-friendly design consideration. "This
MacBook
is off to a good start as far as we're concerned," they wrote. "All the ports sit on their own boards and are easily replaceable."
Continuing the repair-friendly trend, iFixit uncovered ten pull-to-remove adhesive tabs securing the 49.9 Wh battery and speakers.
"The mere presence of stretch-release adhesive generally means that someone at least thought about possible repair and disassembly situations," the teardown says. "Are you there, Apple? It's us, iFixit. Have you heard our pleas?"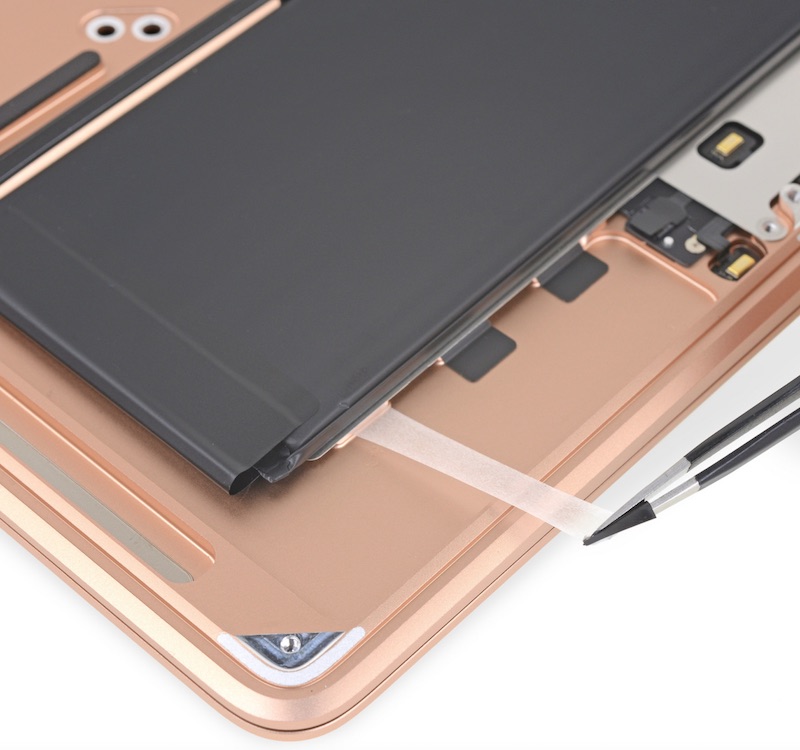 As first reported by MacRumors, the battery in the new MacBook Air is still glued into the top case — the aluminum enclosure that houses the keyboard and trackpad — but Apple will be providing
Apple Authorized Service Providers
with tools to
remove the battery and reinstall a new one with no top case replacement required
.
In all other MacBook and MacBook Pro models with a Retina display released since 2012, Apple has replaced the entire top case when a customer requires a new battery, so the change is good news for both repairability and the environment.
Last, iFixit confirmed that the
Touch ID
sensor is also modular in the new MacBook Air. According to the new MacBook Air's service guide obtained by MacRumors, the Touch ID button does not require a logic board replacement, but the notebook must pass Apple diagnostics in order for the repair to be completed.
While the new MacBook Air has improved repairability relative to Apple's standards, the notebook earned a low 3/10 repairability score from iFixit.
"The Air still uses external pentalobes to keep you out, requires lots of component removal for common fixes, and both RAM and storage are soldered to the logic board," said iFixit. "All together, that means Apple has an easy time with their knowledge and tools, but the average DIYer is left out to dry when it comes to upgrades."
Nevertheless, iFixit said it hopes this is "just the beginning of an upswing in repairable design" for Apple products.
Discuss this article
in our forums
https://ift.tt/2zBWTGk