The term "flyover country" was historically something of a misnomer. Yes, plenty of people flew over the country between New York and Los Angeles, but most coastal cities lacked non-stop flights, necessitating at least a stopover in the center of the country.
That's less true today. The Wall Street Journal recently ran an interesting piece on the growth of coast-to-coast flights. Here's the money graphic: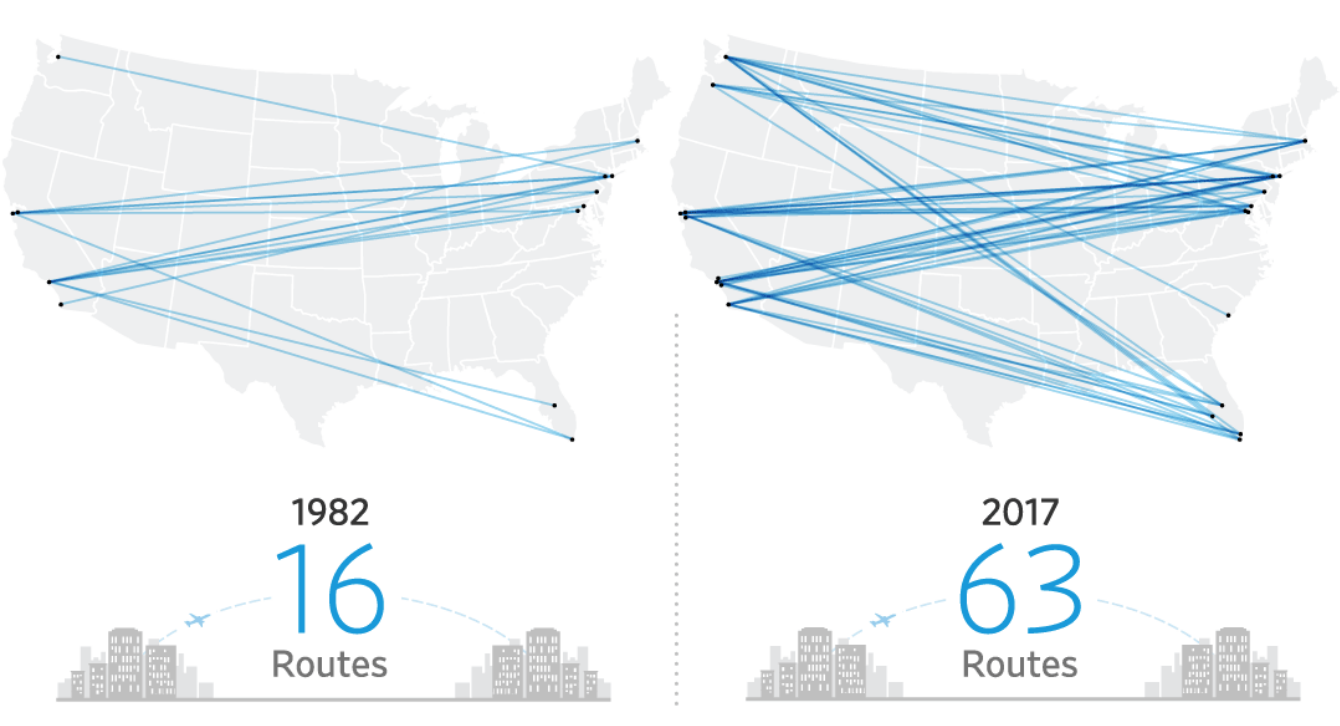 An an excerpt:
Coast-to-coast flights linking secondary cities are letting travelers in places like Baltimore, San Diego, Seattle, Orlando, Fla., and Oakland, Calif., bypass midcontinent hubs.

There were 158 daily transcontinental nonstops 20 years ago, mostly between the New York area and Los Angeles and San Francisco. Now there are 321 daily nonstops across the country, linking airports as small as Charleston, S.C. And more are coming.

…

Industry consultant Craig Jenks, president of Airline/Aircraft Projects Inc., thinks mergers among big airlines have created more fragmentation of coast-to-coast flying. While Delta , United and American all swallowed smaller competitors and closed hubs in the middle of the country like Cleveland, Cincinnati and Memphis, Tenn., smaller airlines saw opportunities to pick up passengers by offering nonstops.

…

"We're not through with this expansion," Mr. Jenks says. He thinks discounters will launch more coast-to-coast flights, which will trigger more flights from competitors. "These markets are too important for the big guys to ignore."
Click through to read the whole thing.
Some of this I suspect is cyclical. The airline business is boom and bust. Right now there is robust demand and strong passenger growth in many markets. There's been a lot of expansion in routes nationally. We'll see how this trend holds up the next time there's a recession. Chances are many of these flights will bite the dust.
https://ift.tt/2Gvu3JZ