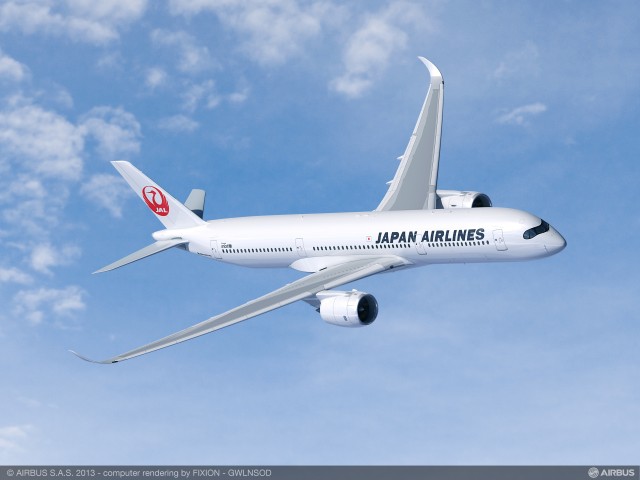 Japan Airlines became the A350 XWB's first Japanese customer with a purchase agreement for 31 aircraft – composed of 18 A350-900s and 13 A350-1000s. Image: Airbus
Japan Airlines (JAL) today announced that for the first time in the carrier's history, they are making a purchase from Airbus. Previously, the airline had been an entirely Boeing customer, apart from operating some A300s they had for a short period of time after the merger with Japan Air System. JAL currently operates both their long-haul and domestic fleets with a mixture of 737s, 767s, 777s & of course the 787 Dreamliner.
The Airbus order was made up of 31 A350 XWB's (18 of the 900 model, 13 of the 1000) with a further option of 25. This is also the first time that a Japanese airline has ordered the aircraft type.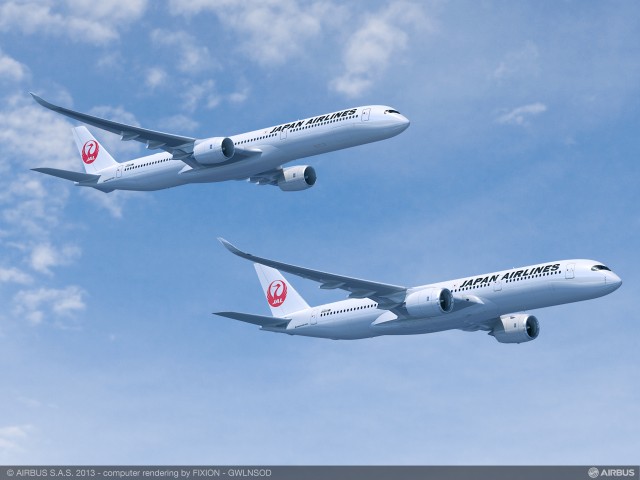 Airbus' A350-900 and A350-1000 will provide new customer Japan Airlines with efficient, next-generation widebody jetliners – planned for service entry with the Japanese carrier from 2019. Image: Airbus
"We will utilize the A350 XWB to maximum, which offers high level of operational efficiency and product competitiveness, while positively catering to new business opportunities after slots at airports in Tokyo are increased," said Yoshiharu Ueki, President of Japan Airlines. "In addition to improving profitability with advanced aircraft, we always aim to deliver unparalleled services to customers with the latest cabin and steady expansion of our route network."
The Airbus A350, which is currently still undergoing testing, should be delivered to JAL in 2019. Airbus is expecting the first A350 to go into service in 2014.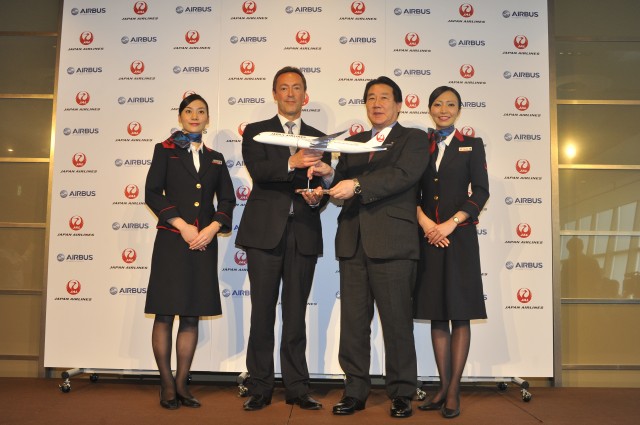 Japan Airlines President Yoshiharu Ueki and Airbus President and CEO Fabrice Brégier sign the purchase agreement for 31 A350 XWBs, plus 25 options – Image: Airbus
"Japan Airlines is well known as one of the most preferred airlines in the world providing its passengers with an excellent flight experience. We sincerely welcome Japan Airlines as a new Airbus customer and feel honored by this first ever order from Japan for our all-new A350 XWB," said Fabrice Bregier, President and CEO of Airbus. "It fills us with pride to see a leading Japanese airline start a new chapter with us. This highlights a very bright and flourishing future for both of us, JAL and Airbus."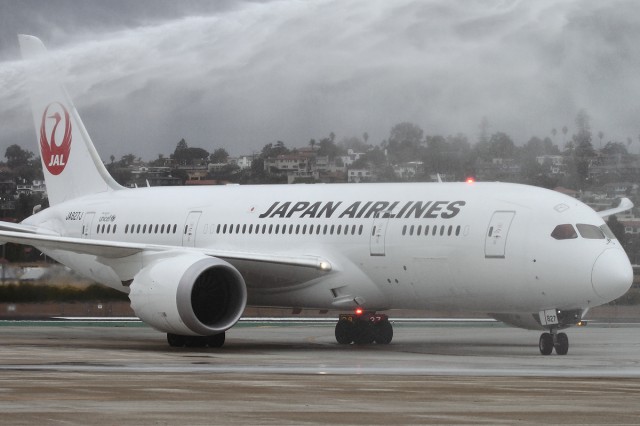 JAL Airlines Boeing 787 Dreamliner arrives to a water cannon salute in San Diego – Photo: Brandon Farris | AirlineReporter.com.
Since JAL was one of the airlines that was shocked by the 787 battery incidents (no pun intended) this could be a message to Boeing that they are now going to have to work for their business.Or this could be JAL looking at their options of either the 777-8X/777-9X or the A350 family and realizing that the A350 made the most sense for them to continue to replace their older aircraft.
After JAL's announcement, there are now a total of 764 A350s on order; the first will be delivered to Qatar Airways.
Malcolm Muir – Managing Correspondent

Mal is an Australian AvGeek now living and working in Seattle. With a passion for aircraft photography, traveling and the fun that combining the two can bring. Insights into the aviation world with a bit of a perspective thanks to working in the travel industry.

@BigMalX | BigMal's World | Photos