A today's media event in San Francisco, Apple announced the release window, specs and pricing for the long-awaited
update to the Mac Pro
. The Mac Pro will be available in December. It will be Apple's first computer in many years to be assembled in the United States, at
Flextronics' plant in Fort Worth, Texas
, though Apple notes more than 2,000 people in 20 states helped build the new Mac Pro.
The new Mac Pro is a complete and radical redesign of the tower/workstation design that Apple has used since the
G5 tower was introduced in 2003
.
In the U.S., pricing for the new tower begins at $2,999 for the entry-level model. There are a number of additional build-to-order components that can be customized for an additional cost.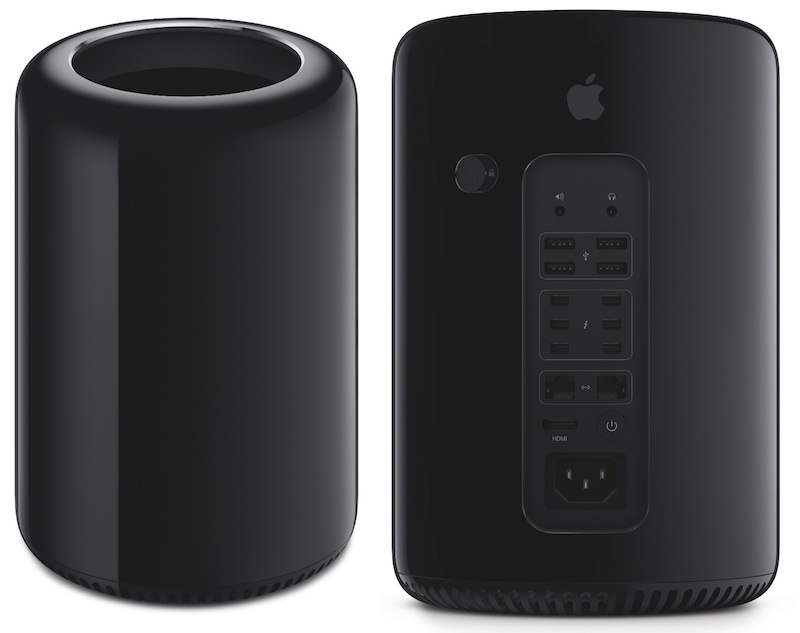 Apple gave an
unusual sneak peek
at the redesigned Mac Pro earlier this year at WWDC, after
promising a year earlier
that a redesign was forthcoming. The flagship Mac Pro had not seen a significant update in
more than three years
.
The new Mac Pro comes with next-generation Ivy Bridge E Xeon processors with as many as 12 cores, two AMD FirePro GPUs standard, PCI Express flash storage, next-generation Thunderbolt 2 ports, USB 3.0, HDMI-out and 802.11ac Wi-Fi.
However, the most striking change in the new Mac Pro is the radical redesign. The tower includes a unique cylindrical design that wraps all of the machine's components around a unified thermal core which absorbs heat from throughout the machine and disperses it through a vertically-oriented fan that draws air in from the bottom of the machine and vents it out through the machine's top.
The new Mac Pro will be available in December
Recent Mac and iOS Blog Stories
•
Apple Announces $13 Billion Payout to Developers, 60 Billion Cumulative App Downloads
•
Tim Cook Joins Board of Advisors at Tsinghua University's School of Economics and Management
•
October 22nd Media Event Spoiler Free Video Stream
•
Sales Gap Between iPhone 5s and 5c Narrowing Over Time
•
Google Hangouts for iOS Gets Voice Calling, Google Voice Integration
•
OS X Mavericks Server Golden Master Seeded Ahead of October 22 Media Event
•
Amazon France and Amazon Germany Hint at Upcoming Refresh for Apple TV
•
Apple Releases MacBook Air Flash Storage Firmware Update to Test for Data Loss Issue [Updated]