Apple's operations department is currently overseeing the shipment of millions of iPhones to nine countries around the world for a launch event on September 20. The iPhone 5c and 5s will go on sale simultaneously in the U.S., Australia, Canada, China, France, Germany, Japan, Singapore, and the UK.
Bloomberg
examined how Apple
manages such a rollout
and the logistical operation it uses to get the phones where they need to be.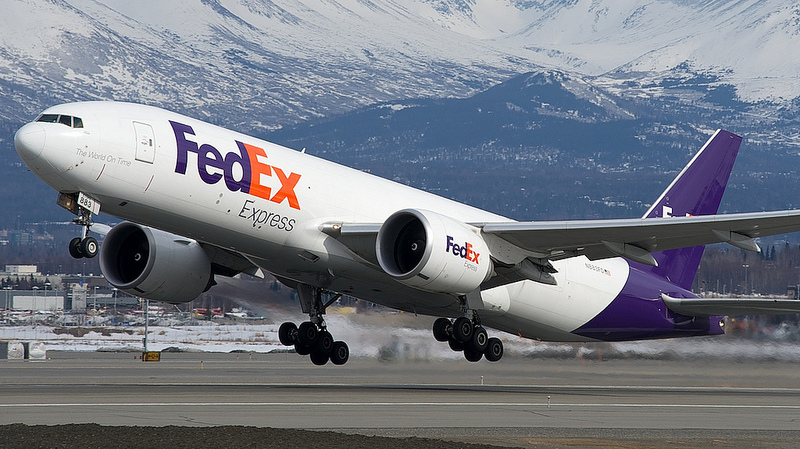 Apple moves finished iPhones from Foxconn and Pegatron factories to shipping companies with a protective security detail. Then they are loaded onto airplanes via "pre-bought airfreight space" including former Russian military transports and, for shipments to the U.S., aboard
FedEx Boeing 777 freight planes
, like the one pictured above.
Bloomberg
says
the company makes constant adjustments to iPhone shipments based on real-time product demand. Apple organizes teams from sales, marketing, operations and finance to estimate how many devices will be needed, and millions of phones are shipped to distribution hubs around the world ahead of the public announcement of the launch.
Before Apple's formal unveiling on stage, iPhones are shipped to distribution centers around the world, including Australia, China, the Czech Republic, Japan, Singapore, the U.K. and the U.S., said one of the people with knowledge of the matter. Security personnel are with the devices every step of the way, from truck depots, airports, customs and storage warehouses until the product is finally unveiled, two people said.

FedEx ships Apple handsets to the U.S. mainly using Boeing 777s, according to Satish Jindel, a logistics-industry consultant and president of SJ Consulting Group. Those planes can make the 15-hour flight from China to the main U.S. hub for freight shipments in Memphis, Tennessee, without refueling, Jindel said. The 777s can carry about 450,000 iPhones and cost about $242,000 to charter, with fuel accounting for more than half the expense.
After the new product launch, Apple continues to "manage the flow of orders from people looking for a specific color [or] memory size". The iPhone 5s will coming in 3 colors and 3 capacities, while the 5c has 5 colors and 2 capacities -- not to mention different models for each carrier around the world.
By monitoring sales from its retail stores, website and third-party resellers, Apple reallocates handsets based on where demand is strongest, one of the people said. iPhones coming off the assembly line in China originally destined for retail stores in Europe could be used to fill a bump in online orders, for instance. The process involves crunching a lot of data.
The
iPhone 5s
and
iPhone 5c
will go on sale in 9 countries on September 20. The iPhone 5c will be available for preorder on September 13.
(
Image courtesy Flickr/BriYYZ
)
Recent Mac and iOS Blog Stories
•
Three Announces 4G Rollout Plan in Four UK Cities
•
Disney's 'The Little Mermaid: Second Screen Live' Hitting Theaters with Companion iPad App
•
Apple's 'Cards' App Appears to Be Discontinued [Update: Confirmed By Apple]
•
Apple Asks Developers to Submit iOS 7-Compatible App Updates
•
New Otterbox Cases for iPhone 5s Will Work With Touch ID
•
Apple Introduces New 'Space Gray' Colors for iPod Touch, Nano, and Shuffle
•
Apple Continues Offering iPhone 4 in China
•
Apple Increases AppleCare+ iPhone Service Charges, Adds iPods, Expands to New Countries