With Apple expected to introduce a
new line of iPads
in the coming months including a thinner, lighter full-sized iPad and an iPad mini with Retina display, Amazon has
refreshed
its Kindle Fire line, headlined by the redesigned, 7-inch Kindle Fire HDX with a resolution of 1900x1200 at 323 pixels-per-inch (PPI) and the new 8.9 inch Kindle Fire HDX tablet with a resolution of 2560x1600 at 339 PPI.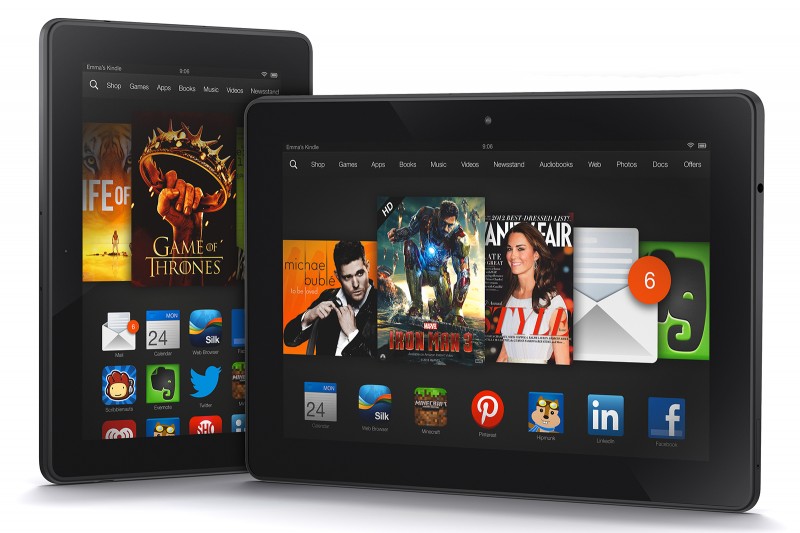 As noted by
The Verge
, both of the Android-based tablets feature a new quad-core 2.2GHz Snapdragon 800 processor, 2GB of RAM, Dolby Digital Plus audio, a 720p front-facing camera, and a new Adreno 330 GPU, with up to 11 hours of battery life, or an extended 17 hours of battery life for strictly-reading use. Both tablets also feature the new Fire OS 3.0 "Mojito", and an on-screen "Mayday" button, which enables live on-device tech support. Specifically, the feature allows for an Amazon technical support advisor to walk users through any feature with 24/7 one-way video support, enabling tech agents to draw on the screen and even remote control the device for support purposes.
The standard
7-inch Kindle Fire HDX
is priced at $229 with 16GB, but Amazon is also offering a $329 version of the model with 4G LTE connectivity. Meanwhile, the
8.9-inch Kindle Fire HDX
starts at $379 for the 16GB model, but also has an LTE option priced at $479. The 7-inch Kindle Fire HDX ships on October 18, with the LTE option shipping on November 14. The non-LTE 8.9-inch Kindle Fire HDX ships on November 7, with the LTE configuration of the model shipping on December 10.
Finally, Amazon has also updated the
16GB 7-inch Kindle Fire HD
with a 1.5GHz dual-core processor and is now selling it at a new lower price of $169, down from the previous price of $199. Like the two higher-end Kindle Fire tablets, the Kindle Fire HD also features the new Fire OS 3.0 Mojito, which contains new features such as multi-tasking, speed enhancements, new content management options, and additional accessibility features. Additionally, a new 8GB model of the Kindle Fire HD is retailing for $139, with both models scheduled to ship on October 2.
Recent Mac and iOS Blog Stories
•
AppleCare+ May Include Coverage for International Travelers
•
Smart Thermostat Company Nest Developing 'Protect' Smoke Detector
•
Apple Releases EFI Update for New Late 2013 iMac Models to Address Boot Camp Install Issues
•
Messaging Service LINE Updates iOS App with Video Calling, 'Snap Video' Function
•
Pixelmator Updated with Speed Improvements, Background Saves
•
'MLB At Bat' Updated for 2013 Postseason with Live Multiple Camera Angles, New Information Section
•
New Apple Retail Store Opening in Woodbridge, Virginia This Saturday [Update: Surrey, BC Too]
•
Apple Halts In-Store Pickup Option for iPhone 5s Orders in Online Store