Via Frequently Flying, JetBlue has released a video of their new Airbus A321′s which will operate on premium cross-country flights from their New York JFK hub.
The video first takes you through the coach cabin showing both regular economy and the Even More Space section. It then heads up front to reveal what appears to be a 16-seat cabin with a 2-2 configuration in rows 1, 3 and 5, and solo mini-suites (complete with privacy doors) on both sides of the aisle in rows 2 and 4.
Here's the video rendering of what the cabin will look like.

I took a few screen shots from within the video to offer a glimpse into JetBlue's premium products.
Here's a straight forward shot of the new business class seats, two-by-two, outside of the first row I would have a strong desire for the aisle and not having to climb over my neighbor to use the lavatory.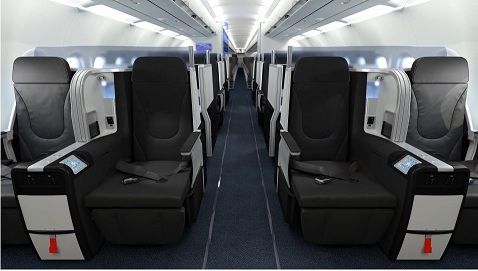 Here are the seats in recline, no doubt they will be promoted as lie flat but they look severely angled to me.
The suite, on the other hand, should be more spacious.
There aren't good enough shots to tell how the seat itself, and especially the recline, differs between business class and these suites.
JetBlue's Business Class Seat Appears to Lag the Competition
JetBlue is clearly offering an improved premium product compared to what it has now — merely extra legroom and a basic coach seat.
But their business class seat, angled flat, appears to lag United's new business class seat, Delta's business class, and American's planned Airbus A321 business seat (though this one is not yet in service). It is superior, of course, to the Boeing 737s that United operates on some of its flights and to the old Boeing 767s that American's Airbus A321 order is meant to replace.
American has promised that its business class will be fully lie flat in 2 x 2 configuration for its new Airbus A321 aircraft which will also offer a 1 x 1 first class. I'm not certain what true lie flat seats will look like four across in an Airbus narrowbody but I look forward to the live product reveal.
United, of course, is nearly done with its transcon fleet changes such that the premium JFK flights will be served by their international lie flat 757 seats. Those are superior to what it appears JetBlue will be offering in business class. Indeed, Delta's business class offering looks better than the way this video portray's JetBlue's business class seats.
Bottom-line here is that angled flat, if the pictures do these new JetBlue seats justice, lags the competition. If JetBlue's prices do as well then the product may make sense. If they expect to charge a revenue premium similar to United, Delta, and American then — especially without the support of as strong a frequent flyer program — they are unliekly to succeed.
Who Will Offer the Best 3-Cabin First Class Product on These Routes?
What will be interesting is to get a better perspective on the 'mini suites' that are 2 across, one seat in each window. American will be the only other airline offering three classes of service on their premium cross country flights from New York JFK.
JetBlue will offer six seats with doors while American will offer 10 seats without doors. Both offerings appear to be a step up from anything currently offered in the market. I've seened clearer renderings of American's proposed seat (though no mention of them recently), while the video doesn't linger on the seat itself long enough for me to tell what differences there may be between it and the business class seats on offer.
My guess is that the jetBlue suite will be the best first class product, though oddly the seats are interspersed amongst the business class ones rather than constituting a separate cabin. I suppose the privacy of the suites obviates that need, but it also suggests to me that the service will otherwise be the same (no separate food, wine offerings) and that the real differentiator will simply be the hardware.
Hopefully we'll know more than is reveaed in these renderings over the next few days.
You can join the 30,000+ people who see these deals and analysis every day — sign up to
receive posts by email
(just one e-mail per day) or subscribe to
the RSS feed
. It's
free
.
Don't miss out!
The post JetBlue's Transcon Business Seats and Suites Revealed appeared first on View from the Wing.