An image
posted
on Chinese site WeiPhone appears to show plastic retail packaging marked with the name "iPhone 5C". If the packaging is genuine, and it has not yet been confirmed to be, it could be for Apple's long-rumored plastic iPhone. The image was first noticed by French site
Nowhereelse.fr
[
Google Translate
].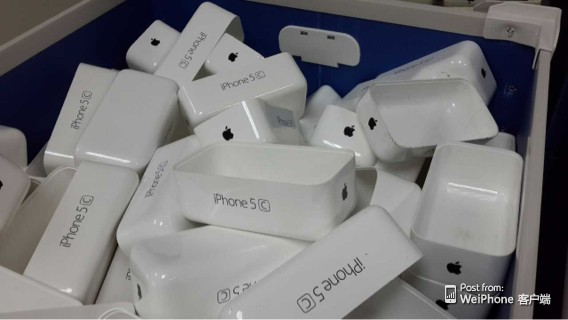 The "C" designation would presumably refer to the various color options available on the rumored lower-cost device.
The packaging appears to be a white plastic box that would hold the device and associated accessories and documentation. A front cover, unseen in the photo but perhaps clear to show off the various color options for the device itself as seen on Apple's iPod lineups, would appear to rest on a small lip around the interior.
A
number of photos
showing plastic rear shells alleged to be for Apple's rumored lower-cost iPhone have surfaced in recent weeks, and Apple is rumored to be launching the device alongside the iPhone 5S later this year.
The WeiPhone forums are a fairly frequent source of Apple rumors, although the site itself does not frequently report on them, making it difficult to determine a steady track record as posting in the site's forums come from a variety of different posters. Still, the alleged plastic packaging and official look of the "iPhone 5C" moniker appear to have some legitimacy, and would increasingly make sense as Apple may be gearing up for a launch of the low-cost iPhone this Fall.
Recent Mac and iOS Blog Stories
•
Vintage 80s Apple Ads Resurfacing on YouTube
•
Apple Forms Supplier Responsibility Academic Advisory Board
•
Google Removes Google+ Local App From the App Store Following Integration into Google Maps
•
Comparison Chart of Chromecast, Apple TV and Roku Content Options
•
Microsoft CEO: 'We Built More Devices Than We Could Sell'
•
Apple CFO Peter Oppenheimer Sells $16.4 Million in AAPL Stock
•
Two New iPhone Models to Be Introduced on September 6th? [Updated]
•
T-Mobile USA Announces $0 Downpayment on All New Devices