In the wake of
continuing reports
suggesting that Apple's Retina iPad mini may not be ready to launch until early next year,
Digitimes
has now
added its thoughts
on the matter, claiming that Apple will be releasing a slightly redesigned non-Retina iPad mini later this year before launching the Retina iPad mini early next year.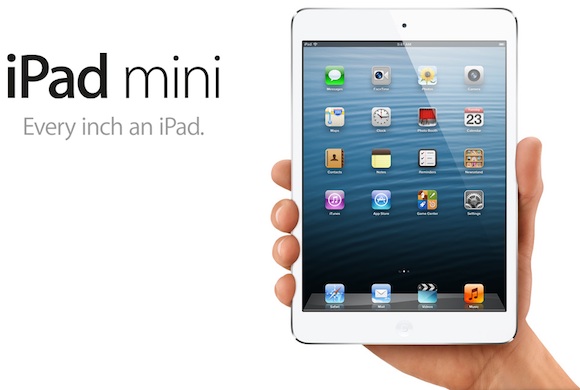 According to the report, the Retina iPad mini will see an "almost bezel-free" design, presumably referring to the sides of the device, which are already fairly narrow. The report is somewhat confusing about just what aspects of the redesign will appear when, also mentioning a lighter and thinner design for the new non-Retina model later this year.
Apple is reportedly aiming to use Retina panel technology equipped with 2,048 by 1,536 resolution in the next generation 7.9-inch iPad mini. Apple is also said to be revising the design of the chassis to give the next-generation iPad mini an almost bezel-free look.

While the new iPad mini may not be availabe during the year-end shopping season, Apple reportedly may first release a slightly updated version of the current iPad mini in the second half of 2013, which is expected to be lighter, thinner and equipped with improved specifications, the sources said.
Digitimes
' report is very similar to claims from
NPD DisplaySearch analysts
, who have flip-flopped several times but now point to a thinner non-Retina iPad mini arriving later this year and a Retina iPad mini following in early 2014.
Today's report also reiterates claims that Apple's fifth-generation iPad is on its way with a thinner and lighter design inspired by the iPad mini. Apple's supply chain is reportedly beginning small-scale production on the new iPad this month, ramping up through October.
Recent Mac and iOS Blog Stories
•
Apple Seeds Two OS X Mavericks Preview 3 Bug Fixes
•
AT&T to Acquire Prepaid Carrier Leap Wireless/Cricket for $15/Share
•
'eBay Exact' App Allows Users to Customize and Print 3D Items
•
Infinity Blade Dungeons Officially Shut Down
•
Best Buy Announces Special Two-Day iPad Trade-In Program
•
AirPort Utility for Mac and iOS Updated with Bug Fix
•
Any.do Launches Calendar App Aimed at Helping You Find More Time
•
Rovio Publishing's Second Game 'Tiny Thief' Hits the App Store