Photos of Bare iPhone 5S Logic Board Surface, Slightly Narrower Than iPhone 5 Board [Updated]
: As
noted by Macotakara
, Japanese parts firm Moumantai has
posted three photos
of what may be the bare logic board from the iPhone 5S. Unsurprisingly, the shape of the board is nearly identical to that of the iPhone 5 logic board, although it appears to have a slightly different curve along the bottom edge where the logic board would meet the speaker enclosure.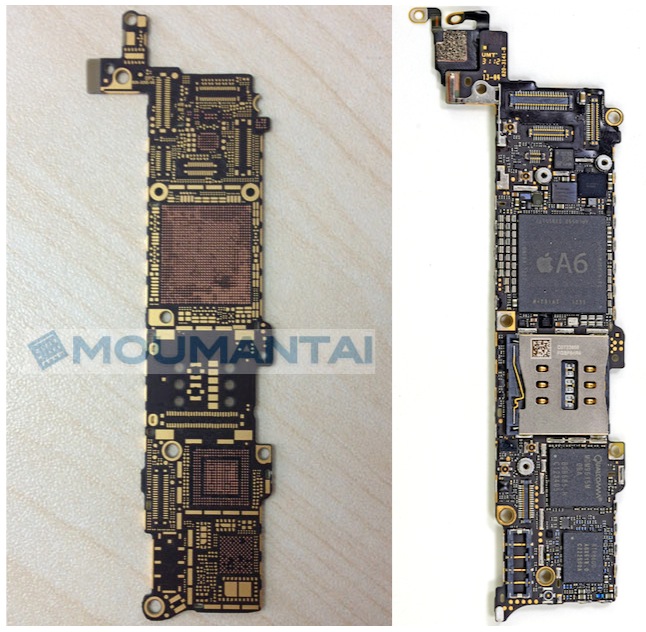 Front of claimed iPhone 5S logic board compared to iFixit's iPhone 5 logic board photo
Few details can be obtained from the part, as there are no chips or other components attached to the board, although it does contain a somewhat different placement of screw holes and a tweaked chip layout. The main A-series chip appears as if it will be slightly larger in area than the A6 seen in the iPhone 5, as it takes up a greater width of the logic board.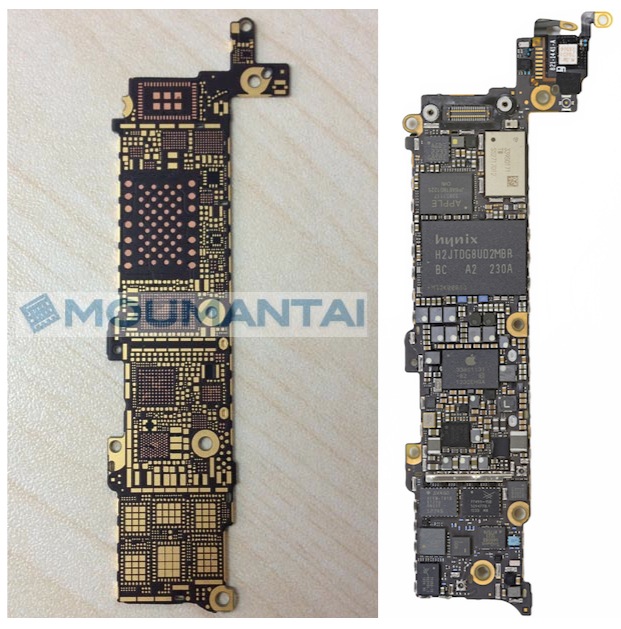 Rear of claimed iPhone 5S logic board compared to iFixit's iPhone 5 logic board photo
Apple's iPhone 5S is expected to launch later this year, perhaps around the September timeframe. Following Apple's pattern of two-year body style cycles, the iPhone 5S will reportedly appear very similar to the iPhone 5 and focus on internal improvements. One differentiating feature may, however, be a fingerprint sensor, which is rumored to be location on or near the device's home button.
Update 8:32 AM
: As
noted in our forums by chrmjenkins
, the logic board may actually be slightly narrower than on the iPhone 5, meaning that the main A-series chip may be the same size as the A6 in the iPhone 5.
I think the logic board has gotten narrower. Notice how the A6 has room for a triple row of caps to its left? The new logic board only has room for a single row (caps being placed longways, granted). Also, the back of the iPhone 5 logic board has the Hynix memory module spanning the whole board. Now since the board is thinner, it's been forced to rotate 90 degrees to fit since it's longer than it is wide.