Apple Unveils iOS 7 with Major Design Overhaul, Multitasking and Control Center
: At today's Worldwide Developers Conference in San Francisco, Apple
unveiled the latest iteration
of its mobile operating system. As
expected
,
iOS 7 features
a major design overhaul that removes many of the skeuomorphic elements found in previous versions of iOS, instead favoring a clean and gloss-less "flat" look.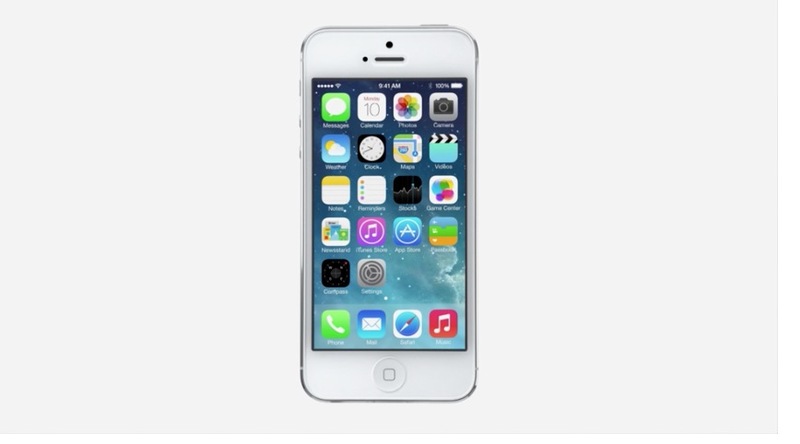 "It's the biggest change to iOS since the introduction of the iPhone," said Tim Cook. "It has a whole new structure that is coherent and that is applied across the entire system," said Jony Ive in a video showing off the new operating system. "We've considered the tiniest details like refining the typography to much larger ones like redesigning all the icons."
Design
iOS 7 features an entirely new color scheme, with translucency, to "create a sense of depth and vitality." The design is significantly different from before, with all new multitasking screens and a totally redesigned interface. The icons are "flat," as expected, with bright new colors. Apps like Game Center have been entirely overhauled, with the removal of the felt and wood elements in favor of a design that relies heavily on black and white with colored accents.
iOS 7 incorporates new motion tracking capabilities. As the device is moved in the hand, it actually tracks motion and the screen moves, which carries over across the system.
On the stage, Federighi demoed the new dynamic weather app, which incorporates some live weather elements. For example, if it is raining outside, the app will show rain. The weather app uses an all new font. Like the Weather app, the Calendar also features a minimalistic new design.
Messages has seen a major overhaul, with a blue and white interface that's removed the gloss from the chat bubbles. Swiping on the screen in messages allows users to go from individual messages to a messages overview. Mail has the same no-frills interface, focusing on text and photos. It incorporates full screen photos.
Notifications Center looks entirely different as well, with new daily overviews. Notifications Center is also now available from the Lock Screen as well as at the top of the app, and it syncs.
Control Center
Control Center offers new preference controls. Swipe up from the bottom of the screen (including the lockscreen) to find quick access to preferences. It has switches that allow users to access Do Not Disturb, brightness, and a flashlight. There's also controls for music.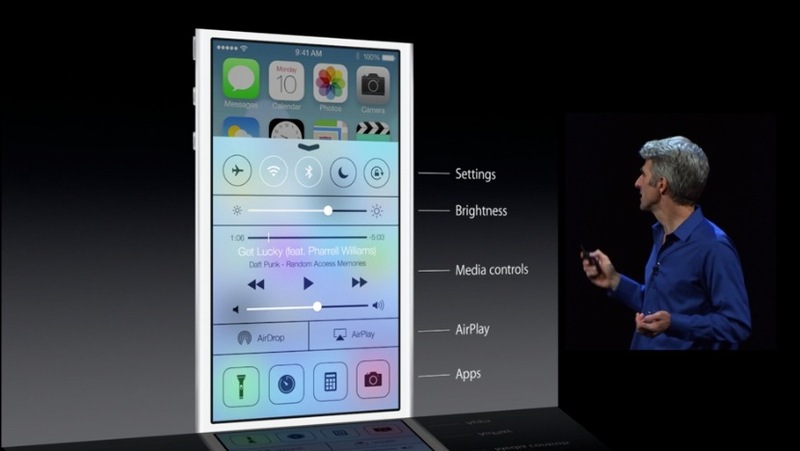 Multitasking
Multitasking for all apps is available in iOS 7. iOS 7 takes note of which apps are used on a frequent basis and it keeps those apps updated in the background. It has intelligent scheduling and opportunistic updates, such as when a user checks their phone throughout the day. It detects coverage signal and it responds to push notifications, giving the app time to update in the background, so that it will be up to date when it is open. There's also a new app switching screen that displays large-sized app cards.
Safari
Safari will get a number of improvements in iOS 7, including a new full screen look and a smart search field. With this field, there's one tap access to favorites, and it also has a new tabbed interface along with parental controls and iCloud keychain integration.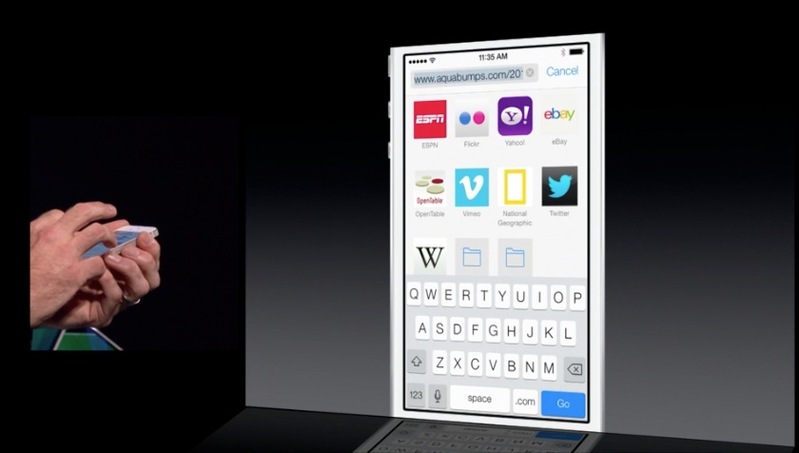 AirDrop
AirDrop will be included with iOS 7, making it easier for users to share photos, videos, and other content with other iPhone owners. This is system wide and can be used with any app that supports the API, it's supported on Apple's newest devices, including the iPhone 5 and the fourth generation iPad, as well as the iPad mini.
Camera
iOS 7 introduces a redesigned camera app that includes photo filters. There's also a new photos app that brings greater photo organization to the system. iOS knows where photos were taken and when and this information is used to organize photos into "Moments." iCloud Photo Sharing has also been enhanced, allowing users to have fully shared photo streams that include both photos and videos.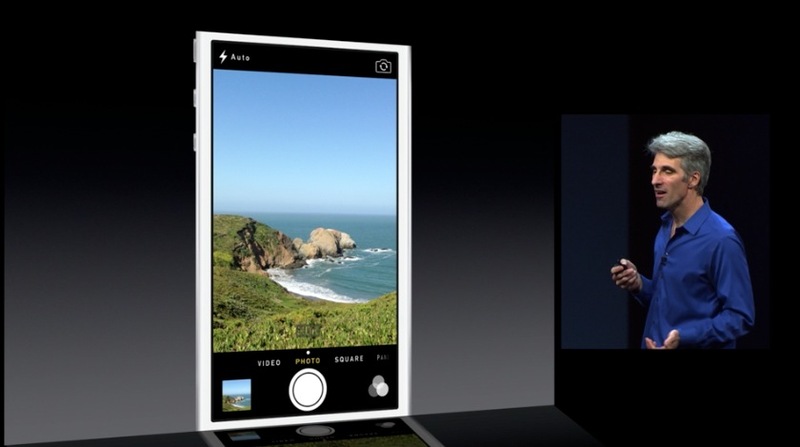 Siri
Siri has been given a "gorgeous" new interface. Siri has also been given new voice options that include a male voice and voices for other languages like French. Siri has also gotten smarter, so it can now perform tasks like turning on Bluetooth or increasing device brightness. New services have been integrated with Siri, such as web search results from Bing, Twitter, and Wikipedia.
iOS in the Car
iOS 7 is designed to provide enhanced integration with in-car systems, displaying iOS on in-car monitors to make calls, get messages, and more.
App Store
The App Store has been entirely redesigned with the same black and white look featured in many of the apps in iOS 7. It is now easier to find apps than ever before. "Apps Near Me" allows users to find the apps that are in use nearby, and there are also new discovery tools for children. The App Store will now update apps automatically, doing away with manual updates. Music, too, has been updated. Turning the app sideways will reveal albums and the music app now incorporates iTunes Music, Apple's new streaming music service. iTunes Radio is free, ad-supported (ad-free for iTunes Match subscribers), and available on iOS, Apple TV, and the Mac.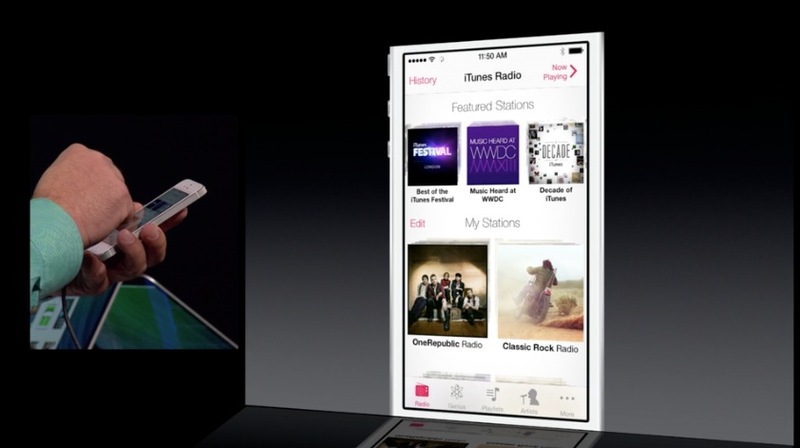 Activation Lock
With Activation Lock, if a thief tries to turn off Find My iPhone or wipe a device, the thief will not be able to reactivate the phone without a user's iCloud user name. It is designed to be a theft deterrent.
APIs
The SDK includes more than 1500 new APIs, including AirDrop support, iBeacons, MFi Game Controllers, UI Dynamics, New Multitasking APIs, SpriteKit, Barcode Scanning, and more.
iOS 7 is available for developers today on the iPhone, with iPad support coming at a later date. iOS 7 will be available for consumers this fall.