Apple's Lightning Connector Detailed in Newly-Published Patent Applications
: As
noted by AppleInsider
, the U.S. Patent and Trademark Office today published three Apple patent applications related to the company's Lightning connector introduced on its iOS devices late last year.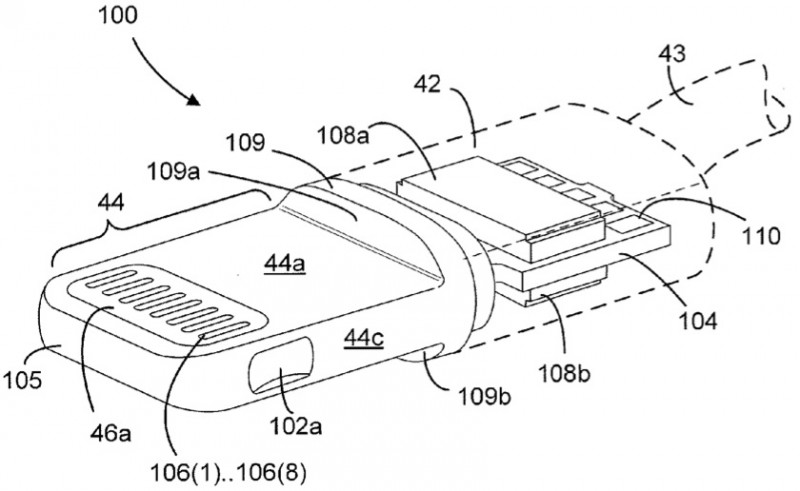 Perspective view of Lightning connector
The
first application
describes the hardware itself, while
two
nearly
identical
applications outline the
adaptive technology
used to assign pin functions. The only difference between the latter two applications appears to relate to one describing implementation on an electronic device while the other addresses its use on an accessory.
The present invention generally relates to connectors for connecting two devices. Specifically, certain embodiments of the present invention relate to reversible connectors with configurable contacts. [...]

Embodiments of the present invention provide techniques for dynamically configuring contacts of a host-side connector that is associated with a host system. In one embodiment of the present invention, a contact in the host-side connector is capable of being assigned one of several functions. The function to be assigned to the contact (and other contacts in the connector) may depend on the accessory coupled to the host system and the signals provided/used by the accessory. For example, when an audio only accessory is coupled to the host system, at least one of the contacts on the host-side connector can be configured to carry audio data.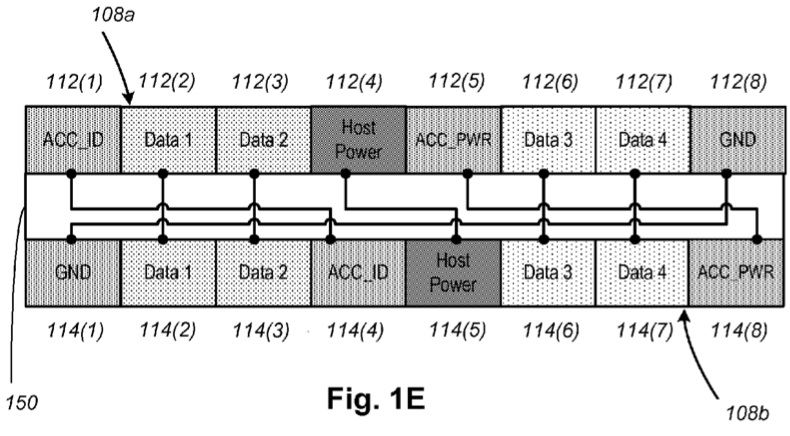 Example pin-out diagram of Lightning connector
As part of the hardware-focused patent, Apple shares several examples of implementations for the Lightning connector, including the
Lightning Digital AV adapter
,
Lightning to SD Card Camera Reader
, and even an as yet unreleased Lightning dock of similar design to the company's
iPad dock
for the first-generation iPad with its 30-pin connector standard.
Apple's three patent applications published today were filed in November and December of last year, but are continuations of similar applications filed on September 7, 2012, five days before the company
officially announced
the standard as part of the iPhone 5 introduction. The patent applications can, however, be traced back even further to several provisional patent applications filed by Apple in November 2011.