Casino panopticon: a look at the CCTV room in the Vegas Aria
: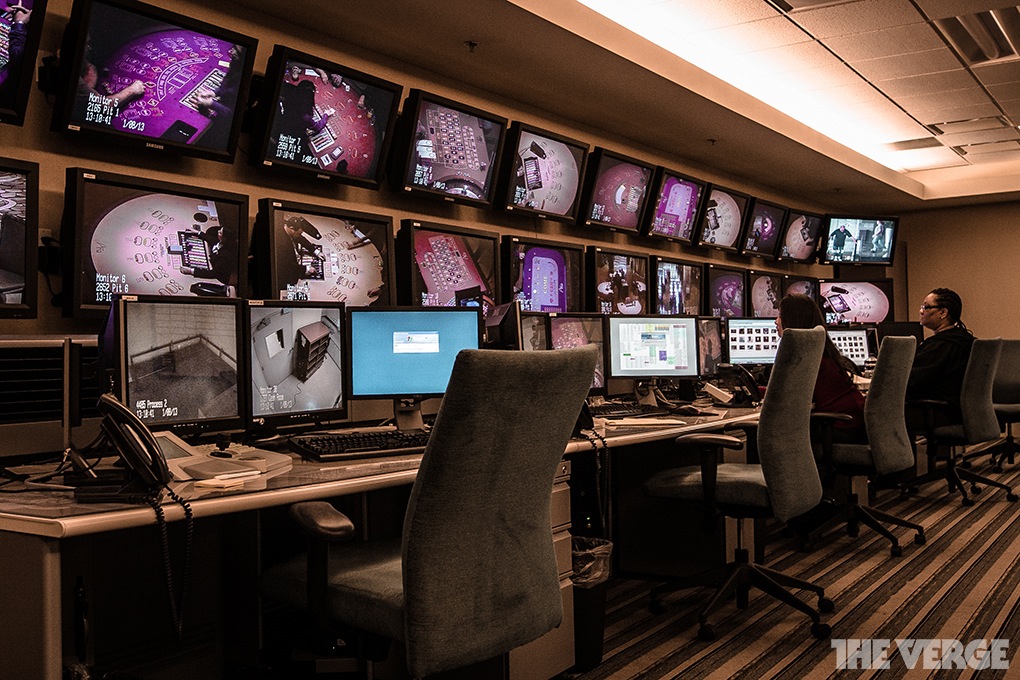 A fascinating article in
The Verge
looks at the history of casino cheating and talks to Ted Whiting, director of surveillance at the Aria casino in Vegas, who specced out a huge, showy CCTV room with feeds from more than 1,100 cameras. They use a lot of machine intelligence to raise potential cheating to the attention of the operators.
Despite that, Whiting says facial recognition software hasn't been of much use to him. It's simply too unreliable when it comes to spotting people on the move, in crowds, and under variable lighting. Instead, he and his team rely on pictures shared from other casinos, as well as through the Biometrica and Griffin databases. (The Griffin database, which contains pictures and descriptions of various undesirables, used to go to subscribers as massive paper volumes.) But quite often, they're not looking for specific people, but rather patterns of behavior. "Believe it or not, when you've done this long enough," he says, "you can tell when somebody's up to no good. It just doesn't feel right."

They keep a close eye on the tables, since that's where cheating's most likely to occur. With 1080p high-definition cameras, surveillance operators can read cards and count chips — a significant improvement over earlier cameras. And though facial recognition doesn't yet work reliably enough to replace human operators, Whiting's excited at the prospects of OCR. It's already proven useful for identifying license plates. The next step, he says, is reading cards and automatically assessing a player's strategy and skill level. In the future, maybe, the cameras will spot card counters and other advantage players without any operator intervention. (Whiting, a former advantage player himself, can often spot such players. Rather than kick them out, as some casinos did in the past, Aria simply limits their bets, making it economically disadvantageous to keep playing.)

With over a thousand cameras operating 24/7, the monitoring room creates tremendous amounts of data every day, most of which goes unseen. Six technicians watch about 40 monitors, but all the feeds are saved for later analysis. One day, as with OCR scanning, it might be possible to search all that data for suspicious activity. Say, a baccarat player who leaves his seat, disappears for a few minutes, and is replaced with another player who hits an impressive winning streak. An alert human might spot the collusion, but even better, video analytics might flag the scene for further review. The valuable trend in surveillance, Whiting says, is toward this data-driven analysis (even when much of the job still involves old-fashioned gumshoe work). "It's the data," he says, "And cameras now are data. So it's all data. It's just learning to understand that data is important."



One thing I wanted to see in this piece was some reflection on how casino level of surveillance, and the casino theory of justice (we spy on everyone to catch the guilty people) has become the new normal across the world.
Not in my house: how Vegas casinos wage a war on cheating
[Jesse Hicks/The Verge]
(
via Kottke
)