Wind map shows Sandy's gusts
: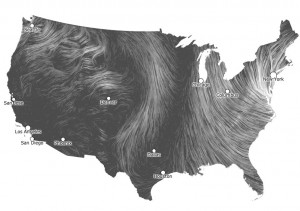 The surface wind data in
this beautiful wind map from Hint.fm
comes from the
National Digital Forecast Database
. It's basically an art project, not guaranteed to be scientifically perfect, but it's dramatic stuff today during Hurricane Sandy:
These are near-term forecasts, revised once per hour. So what you're seeing is a living portrait. (See the NDFD site for precise details; our timestamp shows time of download.) And for those of you chasing top wind speed, note that
maximum speed may occur over lakes or just offshore.


If you're looking for a weather map, or just want more detail on the weather today,
see these more traditional maps of
temperature and
wind.