First Impressions and Hands On with iPad Mini
: Apple
introduced
the long-rumored iPad mini today. At 7.9" in diagonal, the new smaller iPad is said to allow for one handed usage. Apple had the device on hand for reporters to have hands on demos with the device.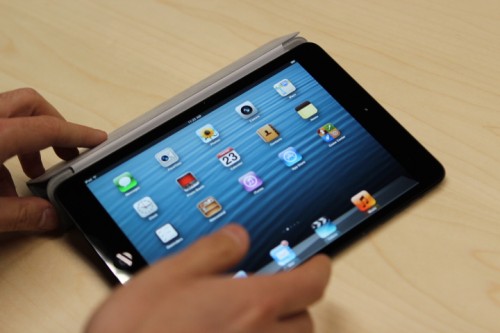 Overall, the impressions are positive with many focusing on the build quality and lightness of the device. While the device is smaller, others note that it's certainly not tiny. Here is a roundup of some of the early impressions:
TechCrunch
:
The finish of the device is matte on the back, making for a very nice feeling in the hand. The weight is really the most impressive part, though – as with the iPhone 5, but to an even greater degree, the iPad mini feels almost weightless when compared to its predecessors. It's so thin and light as to feel almost like a prop, rather than a functional device.
The Verge
:
The display on the mini looks incredibly sharp, and even though the resolution is lower than the 3rd and 4th generation full-size iPad, it doesn't immediately seem like a 1024 x 768 display. The smaller, 7.9-inch surface area certainly helps squeeze the pixels.
Engadget
:
It's still not "small," though. While a fully outstretched adult hand can generally grasp it without help from the other, you'll still want both for typing and using apps. It's still too big for your average pocket, and it's not going to save you a heck of a lot of room in your knapsack compared to the 9.7-incher.