KLM Starts to Say Goodbye to the MD-11
: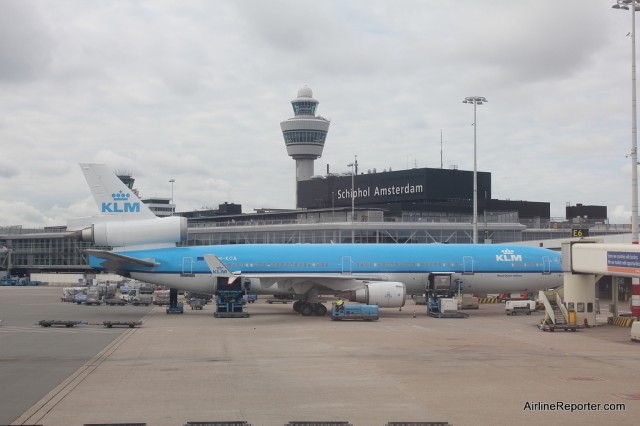 An MD-11 in KLM livery at Amsterdam (AMS).
This is a guest story by Drew Vane on the classic MD-11.
In July of this year, KLM started retiring their fleet of MD-11s with plans to replace them with more fuel efficient aircraft. "Phasing out the MD11 forms part of KLM's ongoing fleet renewal programme," a KLM spokesperson explained to
AirlineReporter.com
. "The last of KLM's ten MD11s is expected to leave the fleet by the end of 2014." For the long term, KLM plans to replace the MD-11s with 787-9s, but until then, they will Boeing 777s and Airbus A330s.
In my last
article
, I highlighted the DC-9 and its impending departure from the commercial skies. I'd thought its time was coming to a close, but Delta surprised me by extending the DC-9's usage an additional year, but it looks like KLM won't be delaying their MD-11 retirements.
Once KLM phases out the MD-11, there will be no other commercial airline flying this widebody tri-jet for scheduled passenger service. It's anticipated that only few cargo and charter airlines will use the MD-11 in their fleet before disappearing from the sky forever.
The MD-11 came about when the aviation engineers at McDonnell Douglas decided an upgrade to the DC-10 was warranted. Instead of inventing a new aircraft, McDonnell Douglas took an already existing popular wide-body aircraft, whose biggest user and launch customer was American Airlines, and made it better.
The DC-10 was plagued with poor media attention due to some catastrophic failures in the 70's and 80's, including the worst commercial air disaster in US history, the loss of
American Airlines Flight 191
. With that flight, a DC-10 rolled over following takeoff and crashed in Chicago on May 25, 1979 which resulted in 270 deaths.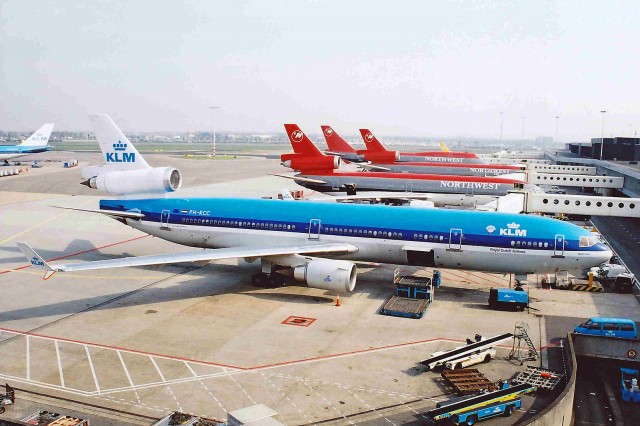 KLM MD-11 at AMS with Northwest DC-10s in the background. Image taken in 2001 by Ken Fielding.
New technological advances had a major impact on what led to the DC-10 Super 60 project, what would eventually become the MD-11.
Boeing's website
best describes what exactly made the MD-11 better than its predecessor. Specifically it states that the MD-11 has "advances in aerodynamics, propulsion, aircraft systems, cockpit avionics and interior design." What does all the mean? Well, a leaner and meaner version of the DC-10. Here is a summary of the modifications:
Advanced Cockpit: Fly-by-wire technology, CRT displays, dual flight management system computer (eliminates need for a flight engineer), hydraulic fuses to prevent loss of control in catastrophic conditions, central fault display system, GPS, and Cat III automatic landing capability for extremely bad weather.
Composite Materials: Usage of light weight composites reduced overall weight and allowed for a fuselage 40 feet longer than the DC-10.
Aerodynamic design: Added winglets produce 2.5% more efficiency in drag as well as wing and tail improvements.
More efficient engines: More efficient aircraft engines were developed by Pratt & Whitney, GE and Rolls Royce. New engine types resulted in greater thrust as less fuel usage and longer range.
The table below highlights how these improvements directly related to a longer range and more efficient aircraft. To make things apples to apples, I've chosen versions that were the best of each aircraft type.
| | | |
| --- | --- | --- |
| | DC-10-30 | MD-11 ER |
| Cockpit Crew | 3 | 2 |
| Passengers (3-class) | 255 | 293 |
| Passengers (2-class) | 285 | 323 |
| Maximum Range (full load) | 6,600 mi | 7,240 mi |
| Maximum Cruise Speed | Mach 0.88 | Mach 0.88 |
| Maximum Takeoff Weight | 572,000 lbs | 630,500 lbs |
| Maximum Fuel | 36,650 gallons | 38, 615 gallons |
| Engines – Thrust | PW4462 – 62,000 lbf | PW JT9D-59A – 53,000 lbf |
| Fuselage Length | 170 ft | 192 ft |
| Wingspan | 165 ft | 169 ft |
So, what we have is a longer range aircraft that is capable of carrying more passengers with less crew and a state-of-the-art cockpit.
If you want to catch a ride on one of these "Mighty Dogs" after KLM retires their 9 remaining aircraft, short of buying your own, you'll have to fly on a charter flight or ship yourself via Fedex, UPS, Eva Cargo or Lufthansa Cargo.