Apple's New Dock Connector with 8 Pins? Cross-Device Integration via Bluetooth 4.0?
:
iLounge shares a new report
highlighting a couple of tidbits of information it has received about Apple's upcoming iOS device plans.
According to the report, the new dock connector set to to debut on the next-generation iPhone will contain just 8 pins, compared to the 30 pins used on the current connector and the 19 pins that have been rumored by several sources for the upcoming connector.
According to two sources, Apple's new Dock Connector features only 8 pins, seemingly contradicting claims of "16-pin" and "19-pin" connectors. [...]





Both of our sources concur that there are eight pins in a line within the new Dock Connector, which may well receive a different name going forward.
One of
iLounge
's sources also claims that the new connector will include several other design features, "potentially" including the ability to mate devices with docks and cables in either orientation, eliminating the need to determine which side of the cable is the front before connecting. The report makes mention of Apple's MagSafe standard used for power connectivity on its notebooks, but this appears to be in relation to the connection orientation options rather than a specific claim that the new iOS device dock connector will use magnets for attachment.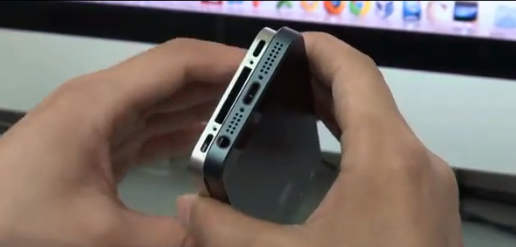 Case openings for dock connectors on iPhone 4S (left) and claimed next-generation iPhone (right)
On a separate note, Apple is also said to be working on an as yet undisclosed iOS 6 feature that would take advantage of the low-power Bluetooth 4.0 connectivity available in Apple's recent products to provide new levels of inter-device communication. While no specifics on the functionality have apparently been shared, the report speculates on a number of potential implementations:
Our source also claimed that Apple is working on an as-yet-undisclosed iOS 6 feature that will act as a bridge between its Bluetooth 4-capable devices. The feature would enable, say, a future iPod nano to display iMessages received by an iPhone, record voice memos that could be shared via the iPhone, and even initiate phone calls through its own headphones.
Apple will be introducing the next-generation iPhone on
September 12
, with availability apparently set for Friday, September 21.