United Airlines Unveils "Special" Livery for 787 Dreamliner
: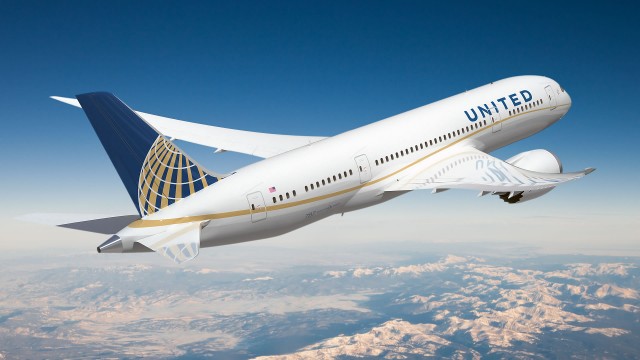 United Airline's special livery for their Boeing 787 Dreamliner. Image from United.
United Airlines
has shown off a special livery that will be seen on their Boeing 787 Dreamliner. The swooping gold-line livery is inspired by the Dreamliner livery that Boeing designed and is United's way of celebrating the two company's long history together. The special livery will be seen on the entire United 787 fleet.
It is a slick looking livery, but a bit disappointing. I have been hoping from the beginning that United would do something special for their first 787. Although, I had a feeling that if they would do something special, it wouldn't be radical, since the globe is a new brand for United and they wouldn't want to cause more confusion about their brand.
The interior cabin will use blues and grays, which are consistent with the airline's newer aircraft today. The 787 will also debut a new in-flight entertainment system that according to United will offer, "more intuitive browsing and more filtering options."
To start preparations for the first 787 delivery, United has already installed a full-flight simulator at their Houston hub and has started training pilots, flight attendants and mechanics.
After United takes delivery of their first 787 in September, they will conduct a variety of tests before the aircraft enters service later in the fall. United is hoping to take delivery of five 787 Dreamliners before the end of 2012.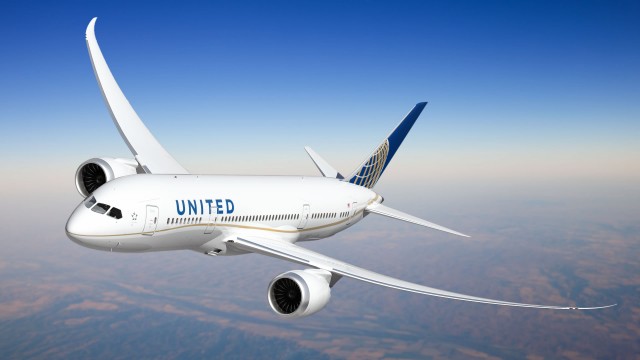 A front view of the special 787 livery for United. Image from United.