Teardown of Retina MacBook Pro Finds Low Repairability with Custom Components
: Following yesterday's teaser
teardown of the updated MacBook Air
, iFixit has now given Apple's new Retina MacBook Pro
the same treatment
.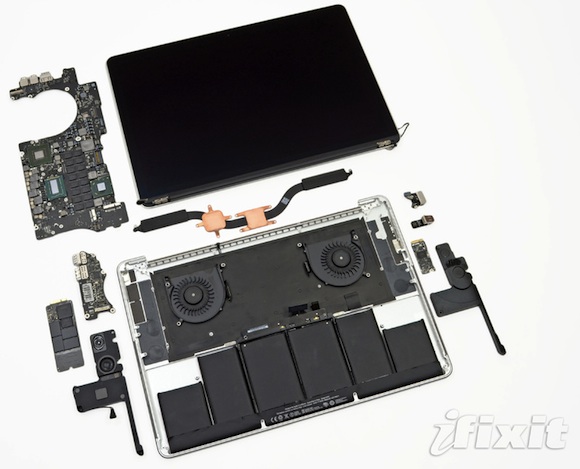 Apple of course showed off a fair bit of the machines internals during the keynote in order to promote all of the innovations included inside, but iFixit's teardown still provides an interesting hands-on look at the internals.
Unsurprisingly, the Retina MacBook Pro is not designed to be user-accessible, with the slim form factor requiring a number of proprietary components that are designed and assembled for maximum space efficiency rather than upgradeability and repairability. This has resulted in iFixit
dubbing
the machine "the least repairable laptop we've taken apart".
Taking a number of cues from the MacBook Air, the new MacBook Pro uses RAM soldered directly onto the logic board, as well as custom solid-state drives that include a new connector incompatible with existing third-party drives on the market.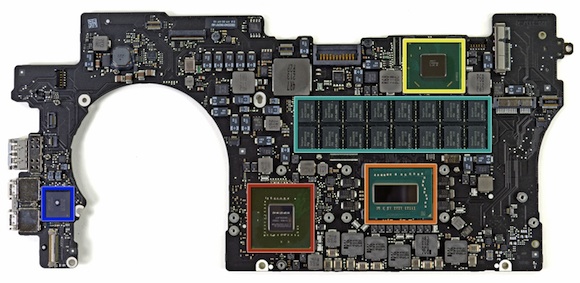 Front of Retina MacBook Pro logic board with CPU (red), NVIDIA graphics (orange), and RAM (green)
Apple has even taken to gluing the large battery into the body of the Retina MacBook Pro, with iFixit ultimately giving up on trying to remove it for fear of puncturing a battery cell. The glued-in battery pack also covers the trackpad cable, making it nearly inaccessible and susceptible to damage if users attempt to remove the battery.
Otherwise, the internals of the Retina MacBook Pro are fairly straightforward, with a large and densely-packed logic board with left-side ports integrated, a separate I/O board for the right-side ports, the asymmetric fan touted by Apple, and custom speaker assemblies.