Samsung's New Galaxy S III Phone Offers 4.8-Inch Screen, Siri-Like 'S Voice' Feature
: Samsung has certainly become Apple's primary competition in the smartphone race, with the two companies currently taking
nearly all of the profits
in the mobile phone industry. Consequently, it pays for Apple and its fans to take note of Samsung's advances with its own hardware, and today's launch of the new flagship
Galaxy S III smartphone
is no exception.
The Android-based Samsung Galaxy S III offers a large 4.8-inch Super AMOLED display with a resolution of 1280x720. The large screen means that Galaxy S III measures nearly 20% taller and wider than the iPhone 4S, but is slightly thinner and actually lighter. The device also includes an 8-megapixel rear camera and a 1.9-megapixel front camera that can be used for face recognition and tracking features.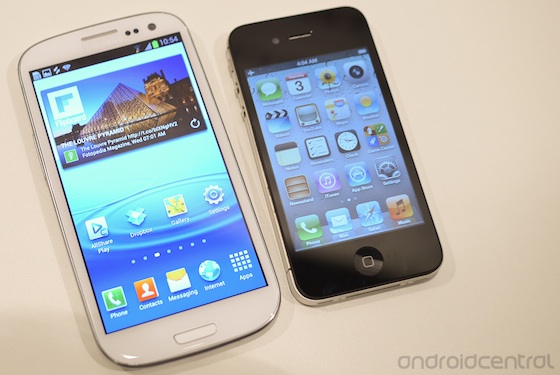 Samsung Galaxy S III side-by-side with iPhone 4S (Source: Android Central)
Samsung is placing a distinct emphasis on "natural interaction" for the Galaxy S III, touting its facial, voice, and motion recognition capabilities, including a Siri-like "S Voice" feature.
With the innovative 'Smart stay' feature, the GALAXY S III recognizes how you are using your phone – reading an e-book or browsing the web for instance – by having the front camera identify your eyes; the phone maintains a bright display for continued viewing pleasure.





The GALAXY S III features 'S Voice,' the advanced natural language user interface, to listen and respond to your words. In addition to allowing information search and basic device-user communication, S Voice presents powerful functions in regards to device control and commands. When your phone alarm goes off but you need a little extra rest, just tell the GALAXY S III "snooze." You can also use S Voice to play your favorite songs, turn the volume up or down, send text messages and emails, organize your schedules, or automatically launch the camera and capture a photo.





In addition to recognizing your face and voice, the GALAXY S III understands your motions to offer maximized usability. If you are messaging someone but decide to call them instead, simply lift your phone to your ear and 'Direct call' will dial their number.
Other features include "Pop up play", which allows users to play videos anywhere on their screen while still using other apps, camera improvements including zero-lag shutter and burst shot mode, and NFC capabilities. Samsung has also partnered with Dropbox to offer Galaxy S III users 50 GB of free storage for two years, a deal that will extend to all Samsung phones and tablets later this year and see the Dropbox app come preinstalled on the devices.
In another bid to take on Apple, Samsung is also rolling out a new Music Hub service that integrates both a streaming service and an iTunes Match-like scan-and-match service to provide users with access to their own music from anywhere. As
noted by The Verge
, Music Hub will cost $9.99 per month for one device or $12.99 per month for up to four devices plus web access.
The Samsung Galaxy S III will launch in Europe on May 29 before extending to the United States in June and other markets around the world going forward.