Lufthansa Airlines Takes Delivery of Their First Boeing 747-8 Intercontinental
: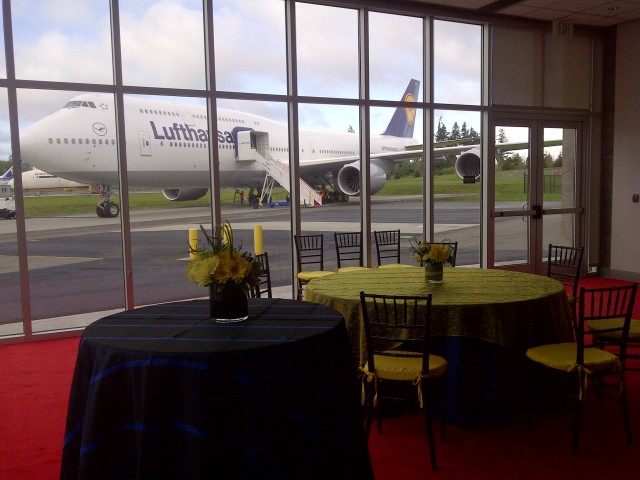 Lufthansa's first Boeing 747-8I, taken from the Future of Flight's new flightline room. Photo by Sandy Ward / Future of Flight.
Today,
Lufthansa Airlines
took physical delivery of their first
Boeing 747-8 Intercontinental.
Although the first 7478I
was delivered back in February to the government of Qatar
, this is the first Intercontinental to be delivered to an airline.
"We are excited and thrilled to welcome the 747-8 Intercontinental to our fleet," said Carsten Spohr, CEO of Lufthansa German Airlines. "Our passengers will love the new interior, which includes our all-new full-flat business-class cabin."
Lufthansa's 747-8I will begin its first revenue flight on June 1st from Frankfurt to Washington, DC. The airline has 20 of the Intercontinentals on order and are expecting to take delivery of five more by the end of the year.
Video taken by PlaneInsight
Officially, the aircraft was delivered by Boeing on April 25th. Between the official delivery date and fly-off earlier today, the airline conducted airline-specific preparations before heading to Frankfurt, where it will be greeted with another celebration.
"We are very proud and pleased that Lufthansa is the airline launch customer for the 747-8 Intercontinental," said Boeing's Pat Shanahan, senior vice president, Airplane Programs, Boeing Commercial Airplanes. "Lufthansa has been a trusted partner for many years and has contributed greatly to making the 747 a truly beloved airplane around the world. We are excited for Lufthansa's passengers to experience the incredible new Intercontinental — it is truly a Queen of the Skies for the 21st Century."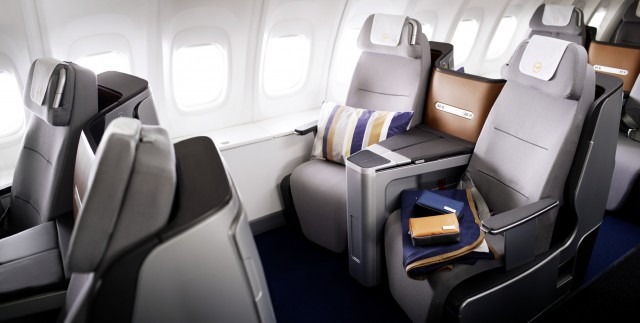 Lufthansa's new Business Class seat on the Boeing 747-8I. Click for larger. Photo from Lufthansa.
Lufthansa will operate the 747-8I with a configuration of 362 seats (8 First Class, 92 Business Class and 262 Economy Class). The aircraft also debuted Lufthansa's new Business Class product, which is in a "V" arrangement, where the seats fold flat.