Apple Reports Results for Q2 2012: $11.6 Billion Profit on $39.2 Billion in Revenue
: Apple today
announced financial results
for the first calendar quarter of 2012 and second fiscal quarter of 2012. For the quarter, Apple posted revenue of $39.2 billion and net quarterly profit of $11.6 billion, or $12.30 per diluted share, compared to revenue of $24.67 billion and net quarterly profit of $5.99 billion, or $6.40 per diluted share, in
the year-ago quarter
. Gross margin was 47.4 percent, compared to 41.4 percent in the year-ago quarter, and international sales accounted for 64 percent of the quarter's revenue. Apple's quarterly profit and revenue were both company records for the March quarter.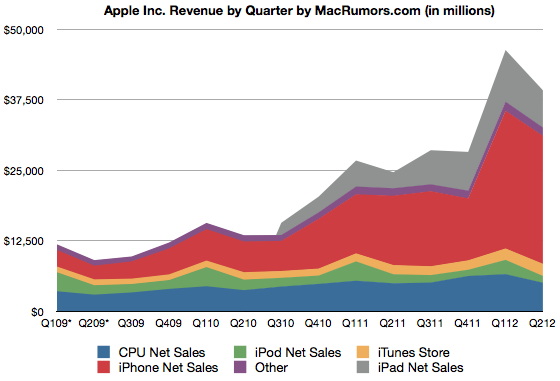 Quarterly iPhone unit sales reached 35.1 million, up 88 percent from the year-ago quarter, and the company sold 11.8 million iPads during the quarter, up 151 percent year-over-year. Apple sold 4 million Macintosh computers during the quarter, a unit increase of 7 percent over the year-ago quarter. The company sold 7.7 million iPods, representing 15 percent unit decline year-over-year.
"We're thrilled with sales of over 35 million iPhones and almost 12 million iPads in the March quarter," said Tim Cook, Apple's CEO. "The new iPad is off to a great start, and across the year you're going to see a lot more of the kind of innovation that only Apple can deliver."
Apple's guidance for the third quarter of fiscal 2012 includes expected revenue of $34 billion and earnings per diluted share of $8.68.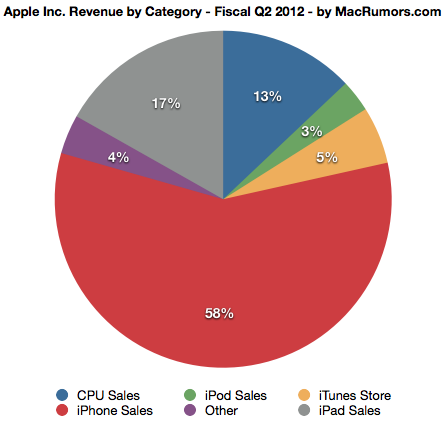 Apple will provide
live streaming
of its Q2 2012 financial results conference call at 2:00 PM Pacific, and
MacRumors
will update this story with coverage of the conference call highlights.