Photo of iPad 3 Rear Shell Suggests Minor Physical Changes, Larger Battery
: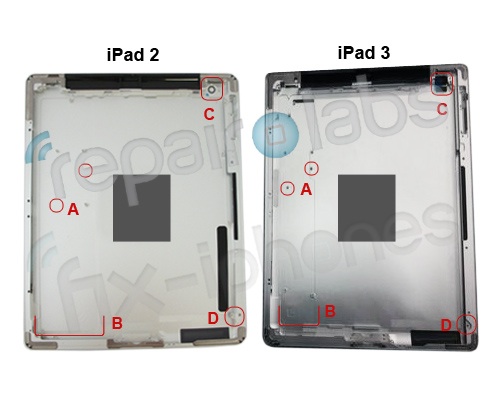 (Click here for larger version)
RepairLabs reports
that it has received a photo of what is claimed to the inside of the rear shell of the iPad 3, comparing the part to the corresponding version found on the iPad 2. The iPad 3 version demonstrates a few minor changes compared to the iPad 2, with one of the most notable being an apparently narrower logic board that could make room for an expanded battery.
A. You can see here that the mounts for the logic board are very different, which means the logic board shape will be different allowing for . . . .





B. More battery. The width of where the logic board sits on the iPad 2 appears much larger than that of the iPad 3. We have long heard that the iPad 3 was going to provide longer battery life, and this back housing seems to support that.
The report also points out slight differences to the locations where the iPad's rear camera and LCD display mount to the rear casing. While those changes obviously do not offer any evidence of enhancements for the components themselves, they do suggest that Apple has at least tweaked their designs from the current iPad.
The photo does not show the backside of the rear shell that would be visible on the assembled device, nor does it show an edge view that would allow for a thickness comparison to the iPad 2. The photo's source does claim, however, that there is no apparent difference in thickness between the two rear shells.
Rumors have disagreed on whether the iPad 3 will thicker, thinner, or the same thickness as the iPad 2, with some suggesting that the final result depends on what type of display technology and backlight system Apple has settled on for the device. The iPad 3 is said to be gaining a high-resolution "Retina" display that could require new solutions for powering and lighting the the screen.
Other rumors have claimed that the device will run utilize a quad-core processor on Apple's next-generation "A6" system-on-a-chip and that support for LTE cellular connectivity will be included on some models.