iPad 3 to Have 'Truly Amazing' Screen
: Following a report from
AllThingsD
earlier today claiming that Apple will
introduce the iPad 3
in the first week of March,
The New York Times is now weighing in
with its own sources corroborating claims of a faster processor and a "truly amazing" screen in a package nearly identical in appearance to the iPad 2.
An Apple employee said that the version of the new iPad that is being tested inside the company is "essentially the same size and shape as the iPad 2," with an improved and "truly amazing" screen. The tablet will include a faster processor, said the employee, who did not want to be identified because Apple is not fond of leaks.
The claims line up with a number of previous rumors about the iPad 3's improvements, with a high-resolution display being one of the most highly-anticipated upgrades for the new device. Earlier today, photos of a
Sharp display
claimed to be for the iPad 3 also surfaced, although the screen's resolution can not be verified from the photos.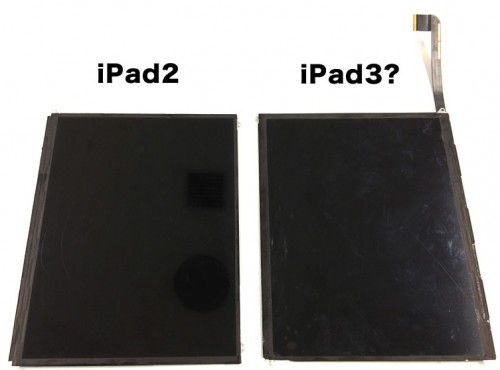 Side-by-side comparison of iPad 2 and claimed iPad 3 displays (Source: iLab Factory)
Indications that the iPad 3 will be nearly identical in appearance to the iPad 2 are also supported by recent
photo leaks
showing the rear shell of the device inside and out.