First Boeing 747-8 Intercontinental Scheduled to Fly Tomorrow
: "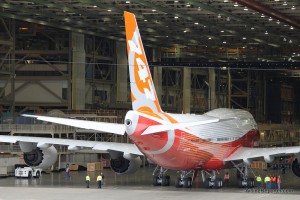 The first Boeing 747-8 Intercontinental coming out of the Boeing hangar.
Are you ready? The first Boeing 747-8 Intercontinental is scheduled to fly tomorrow, Sunday March 20th at 10am PST.
Yesterday the 747-8I completed its high-speed taxi tests and according to Boeing, it "performed well" and they are confident the aircraft is ready for first flight on Sunday.
The 747-8I is scheduled to take off at 10am PST from Paine Field (KPAE). It will then have a five hour flight before landing at Boeing Field (KBFI) at about 3pm PST. Again, all these times are subject to change due to weather and delays.
If you are in the local area, I hope you can make it out to see this orange beauty either take off or land. If you are unable to, you have quite a few options for watching the events:
* Follow @AirlineReporter, @FlightBlogger, @BoeingAirplanes, @PIBoeing on Twitter (omg what is Twitter?)

* Follow #7478FF hashtag on Twitter

* Boeing will have a live feed of the take off starting at 9:45am PST
"